Chassis Offerings
Top of The Line
Uncle Frank's now carries the Ultramax racing chassis and the Millenium racing chassis. We believe both chassis fit the needs of our customers.
For full details on these chassis, please visit the manufacturers website.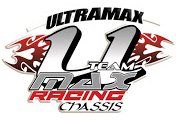 ULTRAMAX EXCENTRIK
The Excentrik is carrying on the tradition of the "Inferno". This chassis will propel Ultramax into the next evolution of chassis manufacturing, with a more flexible chassis with more "sidebite and forward bite off the corner".
This chassis was the most tested chassis in the history of Ultramax Racing and early results are paying dividends. The Excentrik is a hand tig welded chassis, 4130 Chrome-moly aircraft quality tubing bent on a 5 - axis CNC tube bender.
ULTRAMAX EXCENTRIK JR. AND SR. CHAMP
The Excentrik chassis is also available as Sr. and Jr. Champ configurations.
All versions are available in the X-Pert Edition which offers our racers the "best bang for the buck" by including all the goodies that many racers purchase after the sale.
ULTRAMAX BADMAX
Over the past several years Ultramax Racing haS had customers ask about an Economy Chassis. Ultramax thought it would be a great idea to offer "New Racers" a quality chassis at an affordable price. The Badmax is a based off the 99-2000 Centerforce.
The Badmax is made from the Aircraft Quality 4130 Chrome-Moly Tubing, Mig Welded, Adjustable front-end, MCP OEM Brake Systems, Billet Aluminum front/ rear hubs.
ULTRAMAX C4
The C-4 is a mig-welded, 4130 Chrome-Moly Tubing, Heim-Front- end adjustable, with the Inferno/Element Pedal Design and directional hubs. This is another way that Ultramax can offer the Racer a High-Performing Chassis for His / Her Budget.
The C-4 is offered in a Standard Pkg. and the XP Pkg.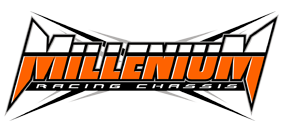 MILLENIUM IMPULSE
The Impulse is the newest Chassis from Millenium Hi-Tech Racing.
The chassis is new for this year and has already won many big events around the country. Features many "state of the art" chassis options and add-ons, just contact us for all of the additional options available on this chassis!